"I've never won a tournament before."
Martin Zamani's words upon conquering the PCA $25,000 High Roller tournament weren't precisely true. But his lone previous victory, worth just over $27,000, came in a $500 tournament at Bellagio two years ago. Given that the field for this event was stacked with regulars, and that he defeated Dominik Nitsche, whom Zamani described as the "end boss" of high roller tourneys, it's easy to understand why this victory feels like the first time all over again.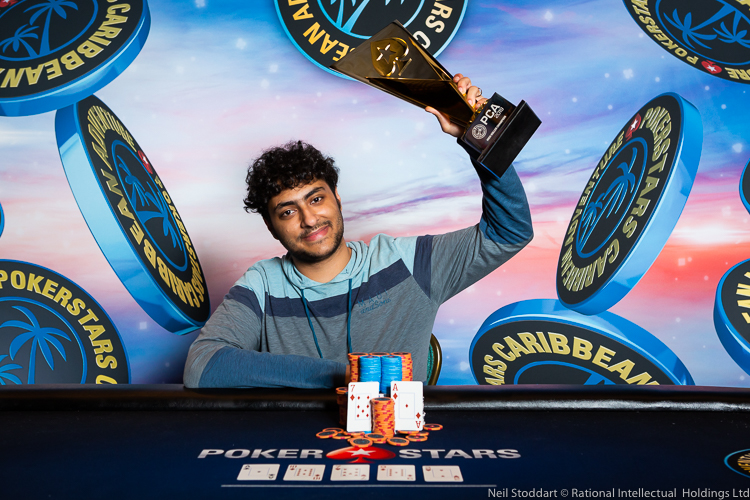 Martin Zamani, end-boss slayer and 2019 PCA $25,000 High Roller champion
The final day of play here began with 12 players still in the hunt for the title. Where play had been deliberate the night before, it was now thrown into high gear. The first 50 minutes alone took us down to the final six players.
Gianluca Speranza took the bulk of Nick Petrangelo's stack early on, then eliminated him in 12th place ($65,440) with 8♦8♥ against Petrangelo's flopped pair of sevens with 7♣5♥. Kelvin Kerber followed in 11th seconds later when he open-shoved his short stack with A♠T♠. Sam Greenwood called with A♦6♦ but caught a six on the turn to eliminate Kerber in 11th place ($75,080). And Max Silver collected the same payout in 10th place when he jammed in the small blind with Q♠7♥, was called by Markus Durnegger with A♠J♠, and failed to connect with the board.
Within minutes of those last two knockouts we lost last week's Super High Roller champ. Greenwood had the edge with his A♠Q♦ for top pair on a Q♣2♠4♣ board, but Tom-Aksel Bedell's K♣9♣ drew out to a flush to bust Greenwood in 9th place ($89,320) and set up our final table with Bedell holding the lead. It was the capper on two weeks of poker worth $1,954,860 for Greenwood.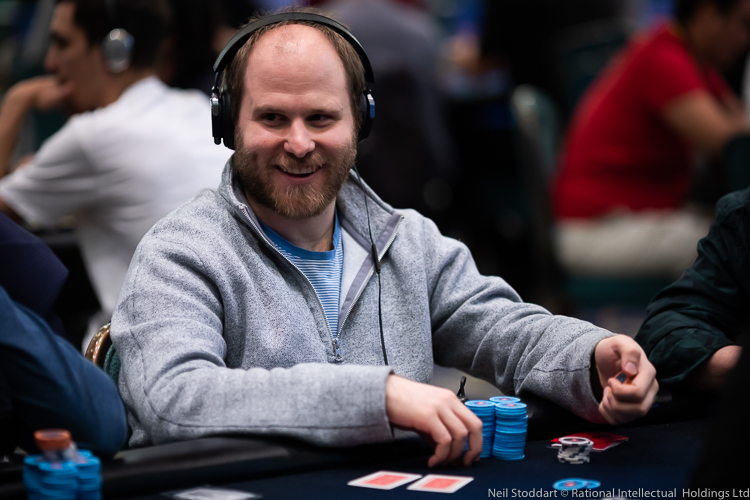 What a PCA it was for Sam Greenwood
The quick pace continued upon reaching the final. Thomas Muehloecker eliminated the short-stacked Davidi Kitai in 8th place ($112,040), rivering two pair with his J♦T♦ to crack Kitai's pocket queens. Moments later Bedell scored another KO after flat-calling a Sean Winter raise with A♣A♥ and then jamming to isolate when Martin Zamani got frisky behind him. Zamani got out of the way and Winter's A♠T♥ fell to the rockets, boosting Bedell into a clear lead.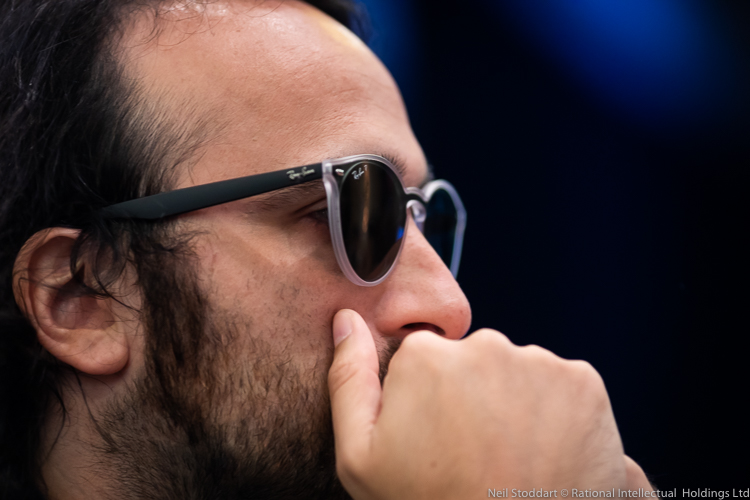 Chalk up another final table appearance for Davidi Kitai
The pace of bustouts slowed for 150 minutes after that while Bedell and Muehloecker traded pots and the lead. Then Muehloecker lost a crucial pot to Zamani when the latter opened, four-bet-shoved with A♠5♦ against the Austrian's pocket queens, and caught an ace on the flop. "I just want to say I'm now 20 for 20 in all-ins," Zamani told us after that hand.
Zamani and Bedell traded blows atop the leaderboard before Durnegger eliminated Speranza in 6th place ($205,980) in a coin-flip. It looked like the battle between them could go on for a while — and then the tournament took a sharp turn when Zamani scored a massive double knockout. All he had to do was call with his Q♣Q♠ after Durnegger open-shoved with pocket fives and Bedell moved in himself holding A♥9♥. The queens were never in any danger and the stacks that had previously belonged to Durnegger (5th, $205,980) and Bedell (4th, $265,640) were merged with Zamani's to give him 58 percent of the chips in play.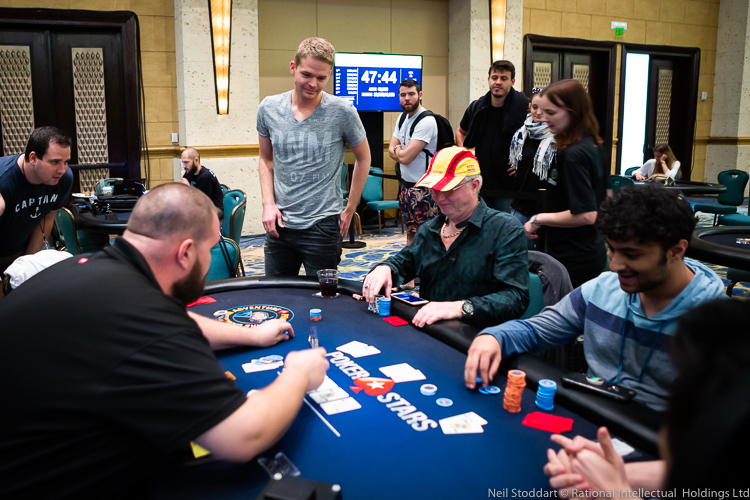 No set for Durnegger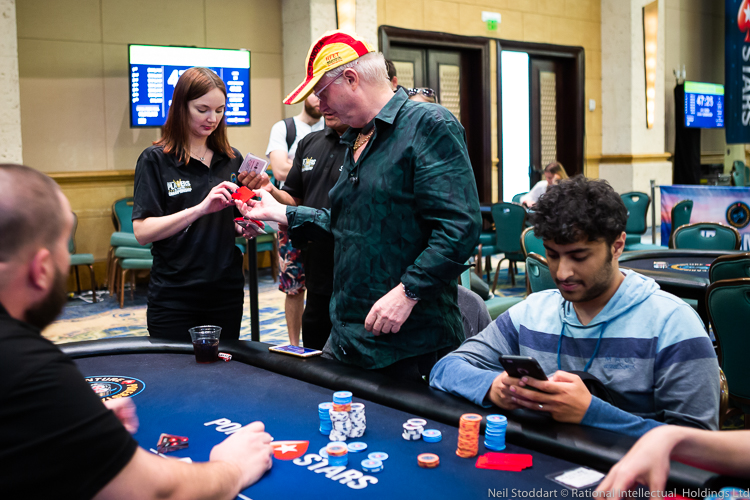 Tom-Aksel Bedell's run ended in 4th place
From there it would have taken a massive misstep on Zamani's part to derail him from his path to victory. Nitsche and Muehloecker traded pots during three-handed play before Zamani eliminated the latter in 3rd place ($404,240) with A♥8♠ against K♠T♠ to set up the heads-up match he'd been hoping for.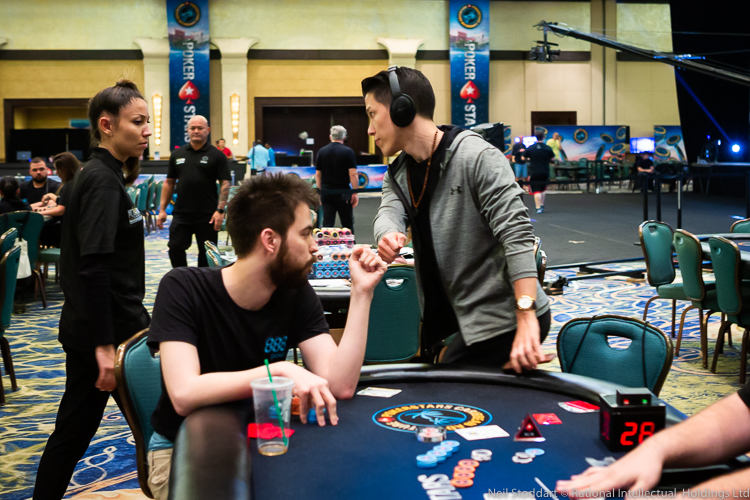 Muehloecker heads for the payout desk
Zamani and Nitsche played a high-paced heads-up match, with things moving nearly as fast as they would if they'd been playing online. Zamani maintained his lead for 30 minutes before Nitsche limped in for 60,000 on the button with J♠9♠. Zamani raised to 360,000 out of position with A♦7♦ and fired another 300,000 with two pair on the A♣T♦7♥ flop. Nitsche called, made a pair of nines with a gutshot draw on the turn, and got his stack in the middle, finishing in 2nd place ($606,360) when the 2♥ hit the river.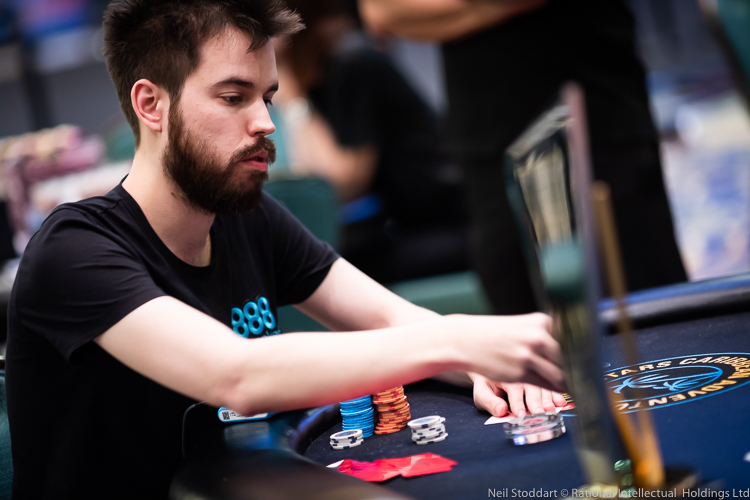 Nitsche considers a call
"I was just having fun," Zamani told us after heads-up play concluded. "I always like to enjoy myself. I've wanted to play Dominik heads-up for a long time. I really wanted to battle him. He's the end boss."
Martin becomes the second Zamani to win big money at the PCA, after his brother Ben took fourth place for $1 million in the Main Event here at Atlantis back in 2010. Congratulations to him on carrying on the family tradition against some of the toughest competition poker has to offer.
PokerStars Caribbean Adventure (PCA) High Roller
Dates: January 14-16, 2019
Buy-in: $25,000 (inc. $750 fee)
Entries: 162 (inc. 47 re-entries)
Total prize pool: $3,849,930
| POS | NAME | COUNTRY | STATUS | PRIZE |
| --- | --- | --- | --- | --- |
| 1 | Martin Zamani | USA | | $895,110 |
| 2 | Dominik Nitsche | Germany | | $606,360 |
| 3 | Thomas Muehloecker | Austria | | $404,240 |
| 4 | Tom-Askel Bedell | Norway | | $331,100 |
| 5 | Markus Durnegger | Austria | | $265,640 |
| 6 | Gianluca Speranza | Italy | | $205,980 |
| 7 | Sean Winter | USA | | $152,460 |
| 8 | Davidi Kitai | Belgium | | $112,040 |
| 9 | Sam Greenwood | Canada | | $89,320 |
Check out the live updates from Day 2 and Day 3 for all the details on Zamani's path to victory. And be sure to keep up with the PCA $10K Main Event, which is still has four players remaining in the hunt for its $1.567 million first prize.
Back to Top