In aviator shades, with sharp haircut and immaculate threads, Poland's Piotr Nurzynski sat for seven near-emotionless hours this afternoon at the final table of European Poker Tour (EPT) Barcelona Main Event. And like all the most accomplished, ice-cold assassins, he walked away with the job efficiently done.
In this context, that meant victory in the biggest EPT Main Event ever played, where the 28-year-old outlasted a field of 1,474 players, whose 1,931 entries built a prize pool of more than €9.3 million. Nurzynski took €1.04 million of it, alongside the trophy and a Platinum Pass to the PokerStars Players Championship in the Bahamas next January.
---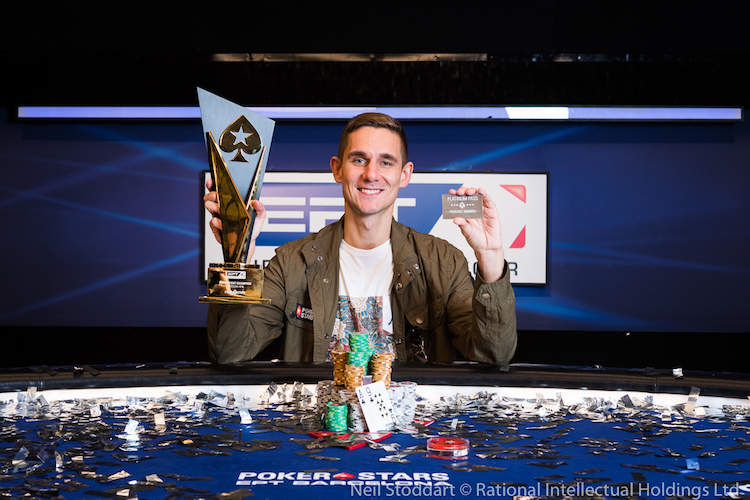 Piotr Nurzynski: Heading to the Bahamas
---
It was a few thousand euros more than the man at the opposite end of the table at the conclusion, and whose table demeanour could not have been more contrasting. Playing his first major tournament, China's Haoxiang Wang was animated throughout: cheering victories and shrugging off defeats with a chuckle. He was actually more reminiscent of the last Polish champion at EPT Barcelona, the wild Sebastian Malec of two years ago.
---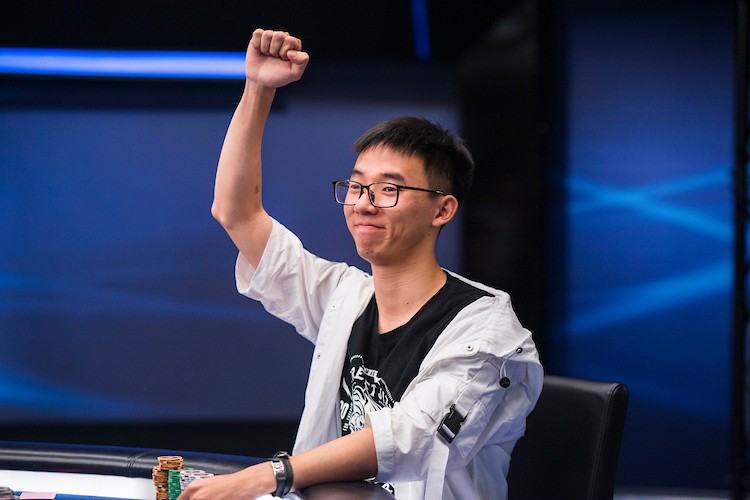 Haoxiang Wang: Beaten into second
---
Wang had been chip leader when four men negotiated a deal–with Ognjyan Dimov and Pedro Marques–to lock up their prizes, and his second place thus earns him more than €1 million. But even Wang could not shift Nurzynski, who is a doctor by trade–albeit one on a two-year sabbatical as he surfs his way around the world.
It's a decent training for life at the high-stakes poker table: he clearly knew how to rides the inevitable waves, and then apply a surgeon's precision when he needed to. Nurzynski's furlough could last a lot longer now.
"I can't believe it," Nurzynski said. "It's shocked me, but wow, I did it. I ran really, really well. I was thinking I can't win it, but it's amazing. It's hard to say something now."
He added: "I have been watching EPT series for so many years and it was my dream to enter the final table. And it's shocking."
---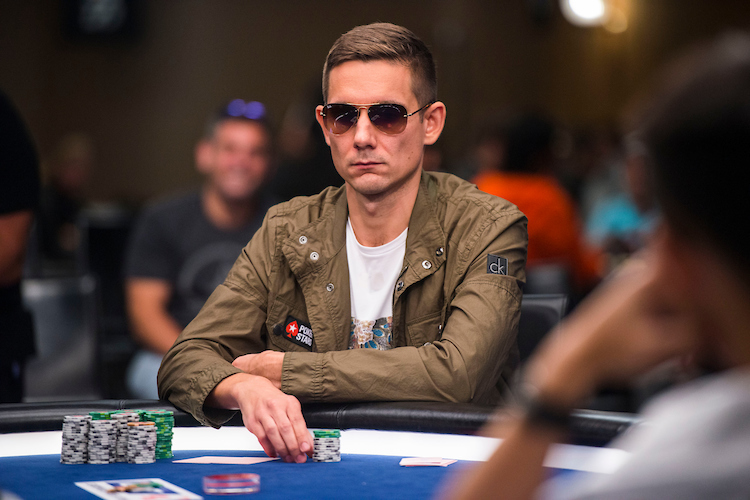 Piotr Nurzynski: Ice cold
---
Early going was fairly benign, with Nurzynski edging into the chip lead, Dimov playing his customary game of measured aggression, and Wang, who started as chip leader today, on something of a slide. Rodrigo Carmo, the overnight short stack, scored a double, but it didn't have a huge influence at the top of the leader board.
---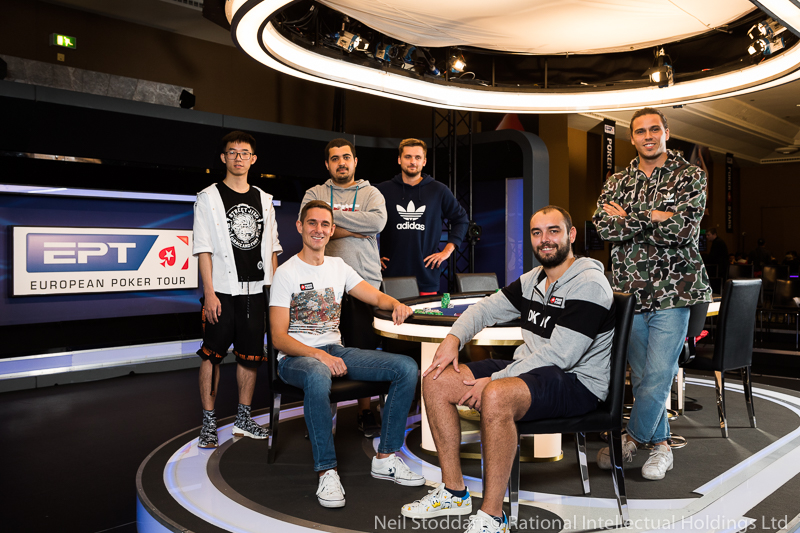 Six-handed at the start (clockwise from left): Haoxiang Wang, Rodrigo Carmo, Piotr Nurzynski, Pedro Marques, Ognyan Dimov, Matthias Tikerpe
---
And then, just as the first level came to its conclusion, Wang won a big pot with pocket kings, pushing him back into the top two as Dimov was clipped. It meant that they took the first break without any significant re-ordering of the troops–even if the increasing blinds put them all under more pressure.
It didn't take long for that pressure to tell on the two shorties after they restarted. In short order, Matthias Tikerpe fell short of his ambitions to become Estonia's first EPT champion, while Carmo took on one race too many and perished in fifth.
---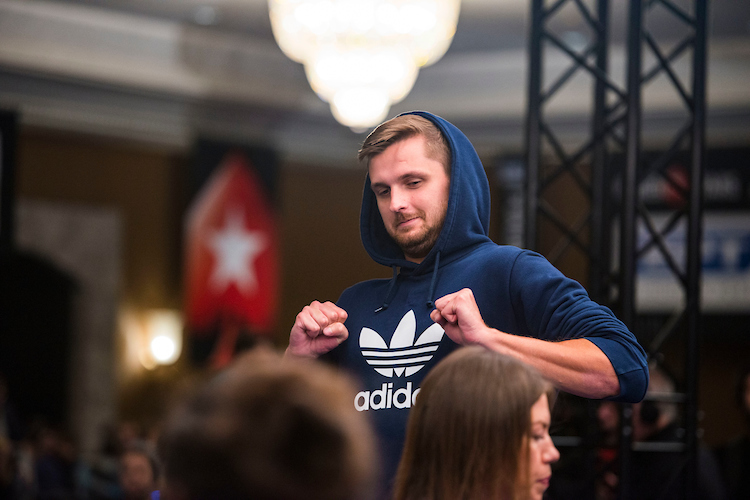 Matthias Tikerpe: First man down
---
Both hands were entirely standard: Tikerpe's A♣ K♣ couldn't hit against Nurzynski's 9♥ 9♣ ; Carmo's A♦ K♣ suffered the same fate against Wang's 8♠ 8♦ . Tikerpe took €287,050 for sixth and Carmo collected €354,200 for hanging around a few hands more.
---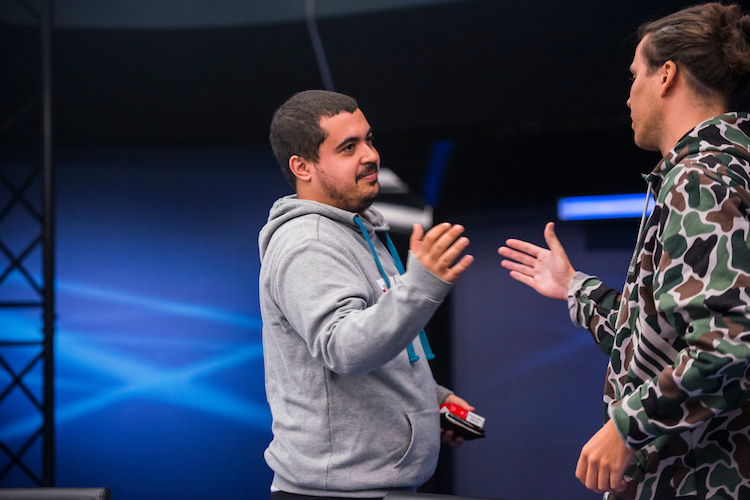 Rodrigo Carmo: Heading home
---
The final four pushed chips around among themselves for a bit, but the majority of them were heading to Wang. Despite being the clear rookie in this company, Wang was showing all the skills of a far more seasoned pro: he could bluff but couldn't be bluffed and that is a fine recipe for success in this game. In particular, he picked one off when Pedro Marques tried it on, and also surged to more than 20 million in chips when Nurzynski got friski.
With steepening blinds, Dimov suggested they look at the numbers and eventually came to a four-handed ICM chop, with Wang locking up a seven-figure payday as the chip leader. They left €180,000 and a Platinum Pass to play for.
---
Deal details:
Haoxiang Wang €1,023,701
Piotr Nurzynski €857,109
Ognyan Dimov €725,621
Pedro Marques €698,369
Winner gets additional €180,000 and Platinum Pass to PSPC.
---
Though it is not always the case, this deal did indeed loosen up the play. Indeed, for the second time during final table play, one elimination immediately followed another.
---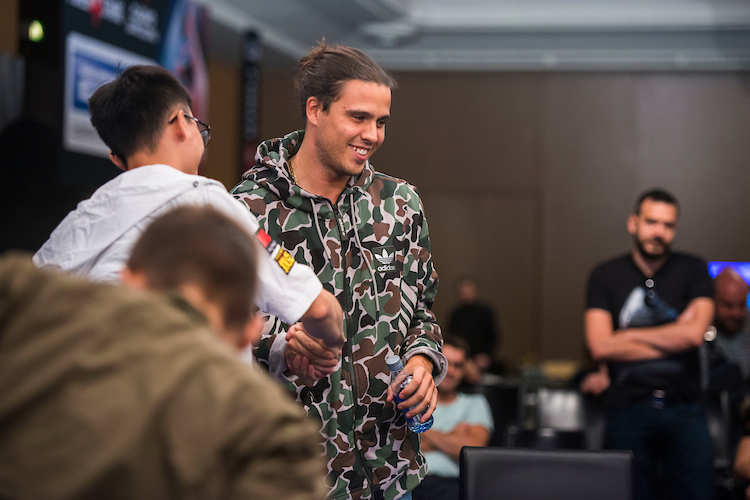 No more Pedro Marques
---
First, it was the smallest-stacked Marques, whose fine tournament ended with €698,369 and fourth place. He had been one of the standout performers from this week, catching the eye both on the PokerStars.tv feature table and when out in the pack, and rarely put a foot wrong.
But the second Portuguese player followed his countryman home, unable to match the exploits of either Joao Barbosa or Antonio Matthias, the country's previous EPT champions. Marques got his chips in as a three-bet shove with A♣ 5♣ . But Wang, the original raiser, went nowhere with his 10♦ 10♣ and Marques couldn't hit his ace.
---

On the subject of Joao Barbosa, he won a Platinum Pass today. Here's more on that success:

---
Soon after it was Dimov's turn to hit the skids. In Deauville in 2015, Dimov became Bulgaria's second EPT champion, but he found out today how much harder it is to win a second EPT title himself. He fell in third when his K♣ 7♣ couldn't come from behind to beat Wang's K♠ 8♥ .
---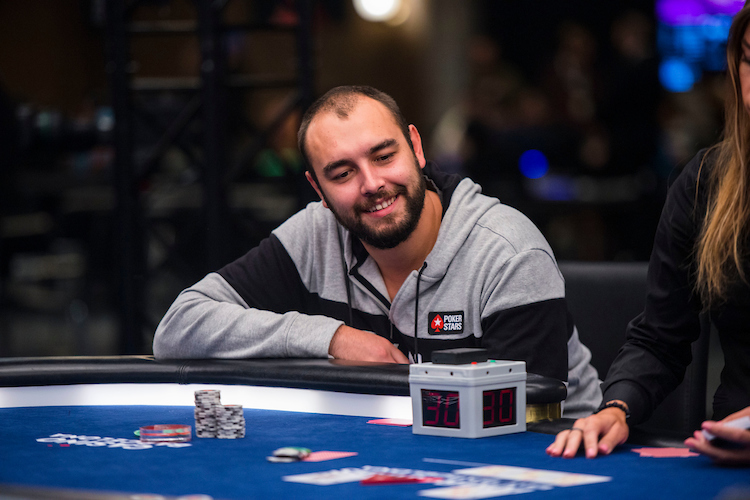 Ognyan Dimov: Former champ falls in third
---
Dimov's €725,621 prize was more than he took home when he was the winner in France. But it left Victoria Coren Mitchell's two-time claim-to-fame intact.
Dimov's departure also ended one further intriguing sub-plot to this tournament. There was a huge last longer bet ongoing here between every PokerStars qualifier: the player who lasted the longest in the Main Event having qualified online would win a Platinum Pass to the PokerStars Players Championship in the Bahamas in January. Both Dimov and Nurzynski were eligible.
When Dimov departed in third, Nurzynski was certain to be heading to the Bahamas either as EPT Barcelona champion, or as the winner of the last longer. And here's something else: Wang also guaranteed his seat at the same time. No player can win two Platinum Passes, and organisers had been clear from the outset that in the case of a Platinum Pass holder winning the tournament, the pass would slip down to the player beaten heads-up. So Wang knew he too was heading to the Caribbean, capping a sensational elevation from amateur, to EPT player to $25,000 buy-in competitor.
Second place was as far as he could go in this tournament, however, as Nurzynski was absolutely ruthless in heads-up play. He admitted later that he felt the pressure was off slightly after the deal was agreed, and said he thought he played better as soon as he knew what he had locked up.
He secured an early double up with pocket kings to get back into the game, and then he was able to negotiate the waters deliberately made choppy by the volatile Wang.
---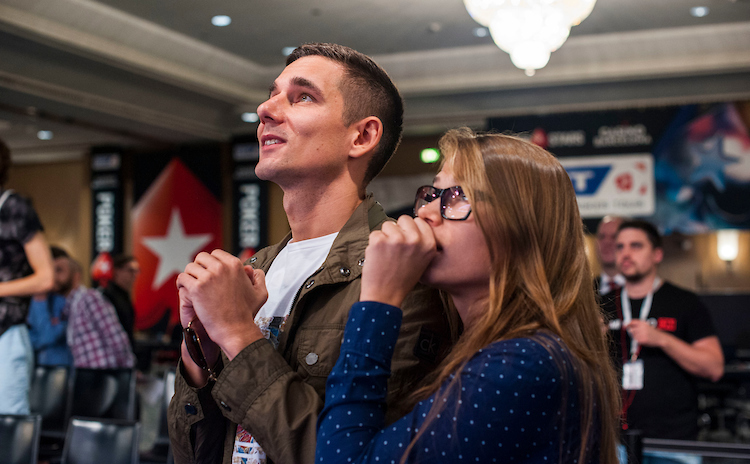 Piotr Nurzynski secures an early double in heads-up play
---
The end came at around 7pm, when two hands saw off Wang. He had pocket nines against Nurzynski's jacks and paid off a huge value bet. Only moments later Nurzynski's A♣ 9♣ flopped top pair when Wang's K♠ 2♦ flopped second pair. It all went in, and that was that for Wang.
It was a superb day of poker, and we're delighted that we'll be seeing both of these players in the Bahamas next year. Review all today's action in our hand-by-hand updates.
---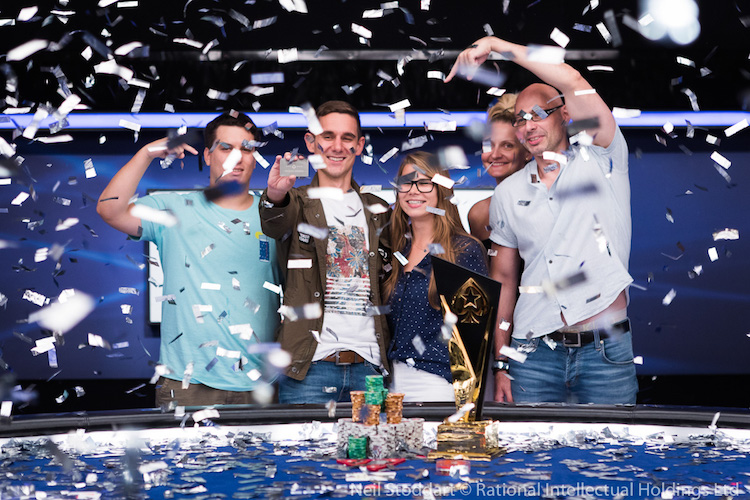 Piotr Nurzynski: Ticker tape champion
---
EPT Barcelona Main Event
Dates: August 27-September 2, 2018
Buy-in: €5,300
Entries: 1,931 (including 457 re-entries)
Prize pool: €9,365,350
(*reflects four-way deal)
| POS | NAME | COUNTRY | PRIZE |
| --- | --- | --- | --- |
| 1 | Piotr Nurzynski | Poland | €1,037,109* |
| 2 | Haoxiang Wang | China | €1,023,701* |
| 3 | Ognyan Dimov | Bulgaria | €725,621* |
| 4 | Pedro Marques | Portugal | €698,369* |
| 5 | Rodrigo Carmo | Portugal | €354,200 |
| 6 | Matthias Tikerpe | Estonia | €287,050 |
| 7 | Mark Buckley | Ireland | €220,000 |
| 8 | Patrick Clarke | Ireland | €155,000 |
Photography by Joe Giron/PokerPhotoArchive and Neil Stoddart.
Back to Top
Study Poker with
Pokerstars Learn

, practice with the PokerStars app

Try our Free Scholars Leader Board to practice your new skills.
Quick Links
Learn
Practice
Chat with us
Watch and share