With four WSOP bracelets, $11.4 million in live tournaments earnings, and another $4.2 million in PokerStars winnings to his credit, Dominik "Bounatirou" Nitsche is one of the most successful poker players of the last decade. But for all that winning over all that time, there's been one tournament title that has eluded him: The Super Tuesday.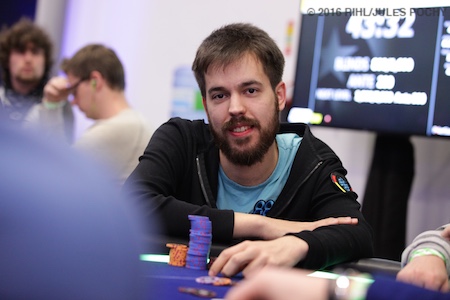 Dominik "Bounatirou" Nitsche, a Super Tuesday champion at last
Nitsche had come close on several occasions, most recently last November when he took fifth place in what was his first return to the final since 2015. Tonight though he made the most of a chance to play some deep-stacked poker from the start and walked away with one of the biggest outright wins of his PokerStars career.
It took six hours of poker to reach the money and another hour and a half to narrow the field to the final table bubble. Past Super Tuesday finalist Rodrigo "sonmonedas" Pérez of Argentina was holding on with the short stack and called it all off in the big blind with A♦ 2♠ , only to find that anti-durrr had raised with A♥ 10♣ in the small blind. Both players had a pair of fours by the river so anti-durrr won on kickers, busting sonmonedas in tenth and setting up our final.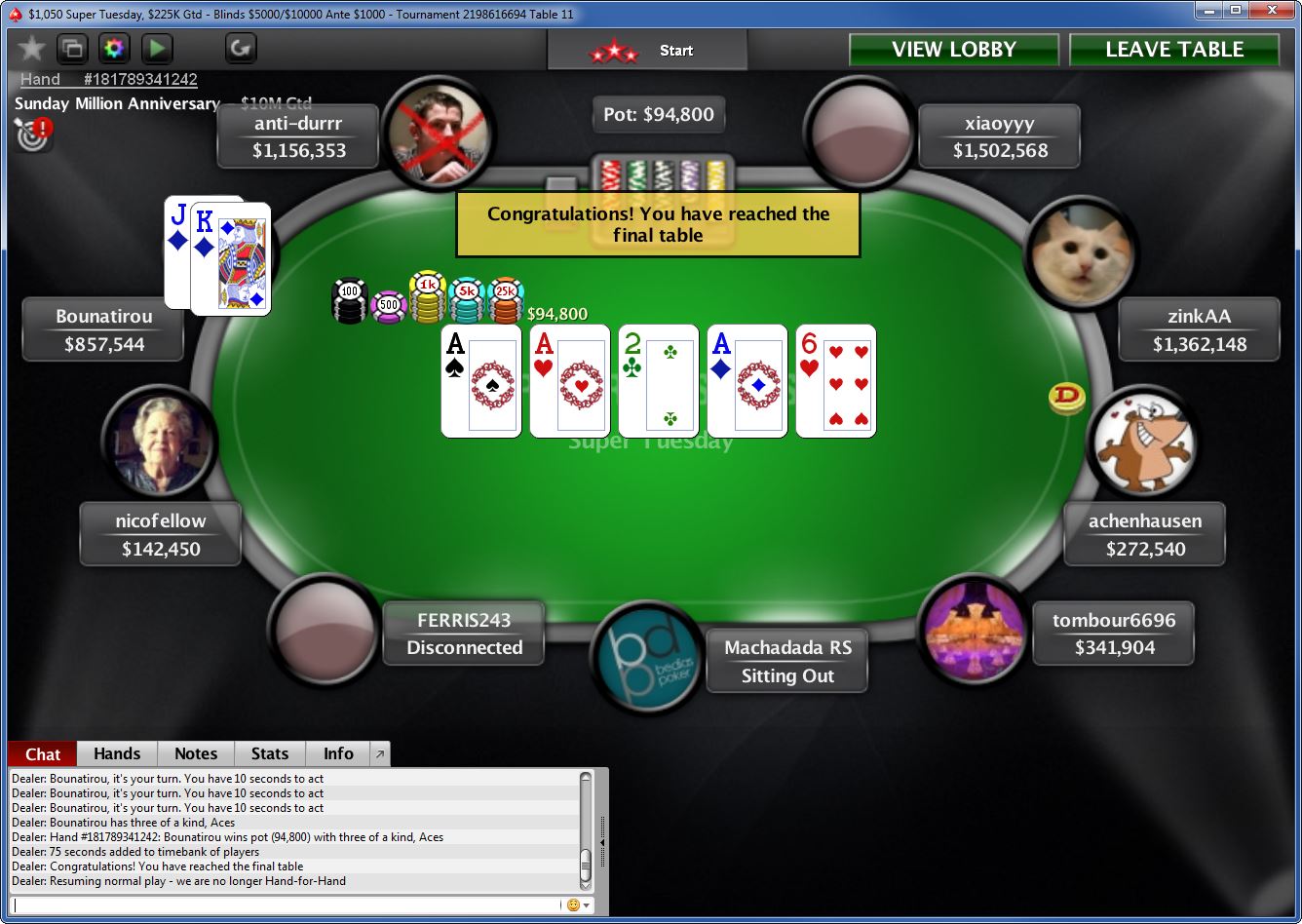 Lots of familiar faces at this week's final table.
Seat 1: xiaoyyy (1,502,568 in chips) past Sunday Million bubble finisher
Seat 2: zinkAA (1,362,148 in chips) past Sunday Warm-Up champion
Seat 3: achenhausen (272,540 in chips) past $82 Sunday HORSE winner
Seat 4: tombour6696 (341,904 in chips)
Seat 5: Machadada RS (549,921 in chips) TCOOP 2017 winner
Seat 6: FERRIS243 (1,089,572 in chips)
Seat 7: Nicolau "nicofellow" Villa-Lobos (142,450 in chips) 2013 SCOOP-Medium Main Event champ, finished fourth in 10/10/17 Super Tuesday
Seat 8: Dominik "Bounatirou" Nitsche (857,544 in chips) four-time WSOP bracelet winner, finished fifth in 11/14/17 Super Tuesday
Seat 9: anti-durrr (1,156,353 in chips) two-time COOP winner
Wth 5,000/10,000/1,000 blinds and antes in play even the short stacks were relatively deep. That didn't translate into many opportunities for them to chip up in the early going, though, and a half-hour later three of them finally reached the end of the line.
tombour6696 lost 200,000 chips over the first half-hour before opening with A♠ 6♠ , calling Dominik Nitsche's small-blind re-raise, and then calling all-in with a combo draw after the flop came 4♣ 3♠ 5♠ . Nitsche's 8♣ 8♦ managed to dodge both draws, ending tombour6696's tournament in ninth. Nicolau "nicofellow" Villa-Lobos followed in eighth on the next hand, open-shoving for 94,450 chips with Q♥ 9♣ in the cutoff. xiaoyyy called with 4♦ 4♥ in the big blind and turned a set to win the pot. Five hands later Machadada RS shoved for 153,981 over the top of zinkAA's opener with 7♠ 7♥ , only to find that zinkAA was holding Q♣ Q♥ ; a queen on the river made an unnecessary set and Machadada RS bowed out in seventh.
Winning that pot helped move zinkAA back over the million-chip mark after losing a number of smaller pots in the early going, but there wasn't much more winning in store. zinkAA tried to steal a multi-way pot with Q♦ J♣ by firing two barrels on the turn and river of a 6♦ 10♠ A♥ 2♥ 9♥ board, but FERRIS243 had flopped two pair with A♣ 6♣ and called down to win the 1.23-million-chip pot. A smaller loss a few hands later left zinkAA with about 14 big blinds. The Russian soon moved in from the big blind on a re-steal with A♥ 3♦ . anti-durrr called on the button with 10♣ 10♥ , which held up to end zinkAA's run in sixth.
The table would remain five-handed for the next hour thanks to the deep stacks and the players' skill. FERRIS243 had the lead at the start of but ended up trading it back and forth with Dominik Nitsche, who won enough small pots to maintain some forward momentum before finally picking up K♣ K♠ in the small blind. He re-raised to 210,000 chips from there, called all-in when original raiser achenhausen jammed for 597,680 total with 9♥ 9♠ , and then flopped a set for good measure to take achenhausen out in fifth.
"Though not a prohibitive favorite, Nitsche had enough chips four-handed to lean on the other players with efficiency."
While that pot didn't make Nitsche a prohibitive favorite, it did give him nearly double the chips of the nearest of his three remaining opponents. He used that advantage to lean on the others quite efficiently. anti-durrr and xiaoyyy slid further and further back as a result, while FERRIS243 was only able to get back to even after using a turned diamond flush with Q♦ 4♦ to grab a 1.3-million-chip pot heads-up against Nitsche. Meanwhile Nitsche got right back to work and was soon over the 4-million-chip mark. The impasse finally broke when the two shortest-stacked players met in a coin-flip situation, anti-durrr with 2♣ 2♠ and xiaoyyy with A♥ K♠ . The deuces held to give anti-durrr the 1.7-million-chip pot and eliminate ziaoyyy in fourth.
Three minutes later anti-durrr got to see a free J♣ A♣ 2♠ flop with J♠ 4♠ in the big blind after FERRIS243 limped in from the button. anti-durrr check-called 80,000 from FERRIS243 there with a pair of jacks and then did the same for 160,000 on the turn before making jacks and fours on the 4♦ river. anti-durr check-raised all-in with two pair and FERRIS243 called with a better version: A♥ 6♦ for aces and sixes. That took the 2.3-million-chip pot and sent anti-durrr to the rail in third.
Dominik Nitsche had nearly a 2-to-1 lead as heads-up play began. Five minutes in he expanded that margin to 3-to-1 after opening with Q♣ 4♣ on the button, flopping a pair of fours, turning three of a kind, and extracting extra value on the river of a board reading 8♠ 9♠ 4♦ 4♠ 7♣ .
FERRIS243 clawed a few chips back after that and then called Nitsche's min-raise with 10♠ 7♠ in the big blind to see a flop of A♠ Q♥ 2♠ . FERRIS243 check-called 58,800 there with a gutshot straight-flush draw and made a spade flush with the A♠ on the turn. FERRIS243 check-raised to 240,000 this time and then, after Nitsche called and the 10♦ fell on the river, bet another 320,000. Nitsche then raised all-in for 4.6 million and turned over A♣ J♦ for aces full of jacks after FERRIS243 called with the flush. With that the last of FERRIS243's chips were gone and Nitsche had locked up his first Super Tuesday victory.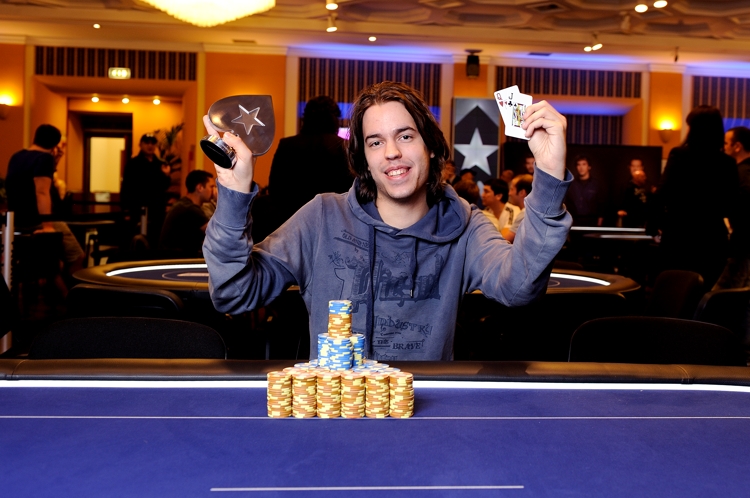 Your newest Super Tuesday champion in earlier times
Chasing down this elusive title didn't just tick off another box on Dominik Nitsche's lengthy poker resume. His prize for tonight winning was exactly $500 short of what he took for his win in the Sunday 500 back in 2016, making this the second-largest outright win of his 10-year PokerStars career. Congratulations to him on another strong performance!
1/30/18 Super Tuesday ($1,050 NL Hold'em) results
Entrants: 291
Total prize pool: $291,000
Places paid: 39
1. Dominik "Bounatirou" Nitsche (United Kingdom) $55,493.90
2. FERRIS243 (Brazil) $41,271.83
3. ani-durrr (Cyrpus) $30,694.73
4. xiaoyyy (China) $22,828.30
5. achenhausen (Norway) $16,977.90
6. zinkAA (Russia) $12,626.81
7. Machadada RS (Brazil) $9,390.83
8. Nicolau "nicofellow" Villa-Lobos (Brazil) $6,984.17
9. tombour6696 (Lebanon) $5,194.26
---
Play in the 12th Anniversary Sunday Million this weekend with a $10 guaranteed prize pool and $1 million guaranteed for first place! Click here to open your PokerStars account today.
---
Back to Top