Throughout the World Series of Poker Main Event this year, we'll be asking members of Team PokerStars Pro for their memories of their first WSOP visit, and for details of what they've learnt since then. Next up: six-time bracelet winner and Team Pro's leading light: Daniel Negreanu.
---
When did you first come to the WSOP?
My first World Series of Poker was 1998. There were a couple of hundred people maybe. Everyone knew each other for the most part and I was the new kid on the block. I played my first World Series event that same year and won a bracelet in the very first one. I was the up and comer at the time, the new kid. People were saying, "Who's that guy?" And I was like, "Oh, don't worry, you'll know."
What were/are your impressions of stepping into the WSOP
Then: It was different back then because in 98 nobody knew who I was. I was the young kid who had idols. I was watching Huck Seed in 96 playing at the final table, so getting the chance to play with Johnny Chan and Erik Seidel for the first time, that was a moment for me.
Now: Those moments don't really happen for me anymore. Now it's the other way around, where there are new up-and-comers who have the opportunity to play with me and probably have a similar experience.
Playing schedule:
Then: Back then it was different. There was only one event a day, and it was a different game usually. I didn't get to play until about midway through the Series. I was a satellite guy, I didn't have any money to play these events. They didn't have $300 Giants, it was $2,000 minimum. Half way through I won a satellite against Todd Brunson and Mike Matusow, where we were three-handed, and we all saved a $500 chip for the $2,000 pot-limit hold'em the next day. I'd never played pot-limit hold'em before, but at the end I beat Todd heads up and he threw me a chip and said, "I'll take a piece of you tomorrow." I wasn't even going to play. I was going to take the satellite chips. But Todd Brunson saying he has the confidence in me to play the thing, I said, why not. So I gave it a shot. I had $2,800 to my name and I put up $2,000 for the tournament. All of a sudden we're in the money. All of a sudden we're at the final table. And all of a sudden they're putting the bracelet on my arm.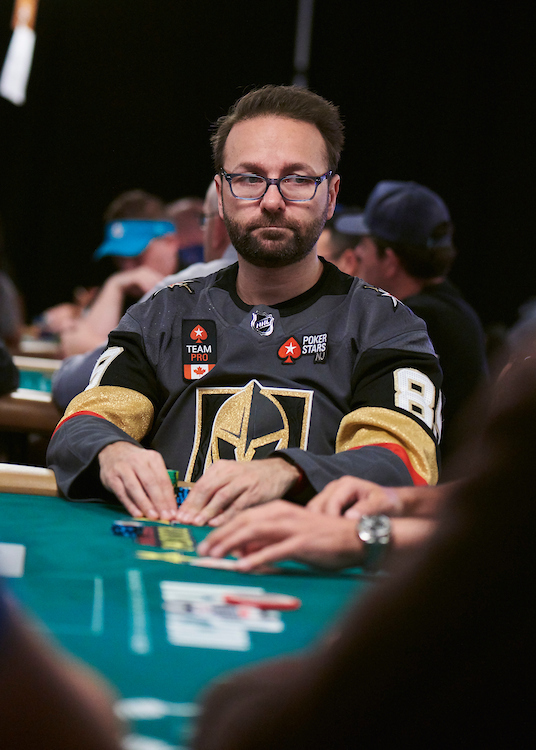 Daniel Negreanu: A relatively brief stay in the Main Event
Now: This year, I think I've played 23 events and I think I'll play 25. That's a lower schedule than normal. Usually I'm in the 30-35 range.
Accommodation:
Then: I stayed at Budget Suites. It was like a little hole in the wall, not in the best part of town. They change your sheets once a week. It had a little kitchen. Basically I lived there for a year.
Now: I have the trailer down there, which I use, but I don't live in it. It has a kitchen, it has a bedroom, it has TV. But a lot of the times when I'm out of the tournament I'm going to jump into the next one, but I need a couple of hours to unwind. So I'll go lay in there for a bit. And even on breaks, just being away from the crowds, and have a chance to get settled. [Negreanu goes home for the night; home being a beautiful house west of the city, which we visited earlier this week.]
What's the single biggest change?
Back then, I was in my early 20s and I was trying to make money. So I was playing $20-$40 all night, limit hold'em, and then trying to scrape in some satellites, trying to get into these tournaments. I was going all night, not sleeping much and literally playing for the money. I don't play for the money any more. I play because I want to and I have the luxury now of not even having to worry about what the buy-in is, I'll just play the next one. It's a totally different mentality.
Do you miss anything of the old days?
Back then, there was something romantic to me of always being on the verge of being felted. It was scary. But I've learned since that fear and excitement are essentially the same emotion, it's just a choice. While many would be in fear, I would be excited.
What gets you excited now?
Obviously the big tournaments. It gets me excited when I'm near the final tables, and I still get the butterflies when it comes to the World Series of Poker. Obviously the One Drop, the Super High Roller Bowl, that's money that stings.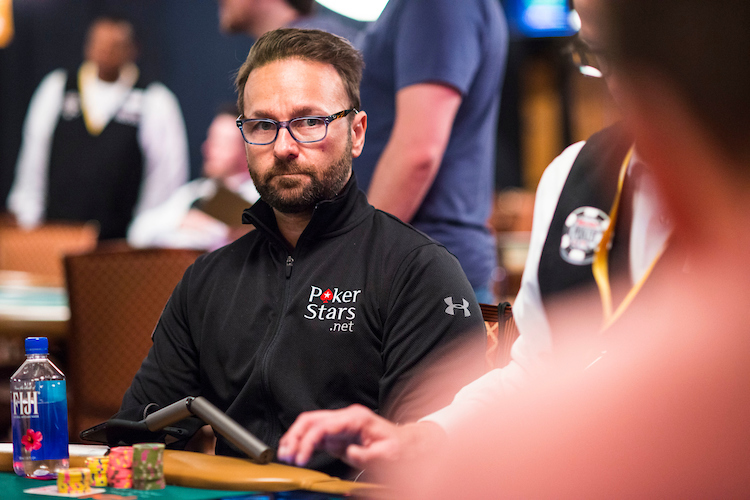 Negreanu in action during the $100,000 High Roller
Habits and routines?
Then: In 98, it would be: play poker all day, all night, then 6am maybe we'd go to like a strip joint or something, drink til 10, go back and play, be hungover for the tournaments. A lot of the mistakes that young 20-somethings make.
Now: No drinking. I don't drink any alcohol during the World Series. We've learnt that lesson! One of the things I did from the year 2000 on is that I watched every single Rocky movie before the Main Event. In addition to that, over the last five or six years, I've planned my schedule out where I know exactly which events I'm going to play, the higher buy-in mix game events. I stay away from the gimmicky events.
What would you tell a first timer?
If you're a first timer to the World Series, I'd say: "Take your time." Don't feel like you have to jump in to the very biggest buy-in. Get your feet wet, maybe even start in the satellites. Play the daily deepstack tournaments until you feel more comfortable and then maybe target one specific event that you want to take a risk on. That way, you at least get the experience of playing a real World Series event.
---
Day 1A full chip counts
Day 1B full chip counts
Day 1C full chip counts
Follow Team Pro's progress
Previous WSOP coverage:
Stat attack: Why this exceptional tournament is also bang average
Records broken and Red Spades flying
"Thanks Daniel" — A letter to Negreanu from Phil Galfond
A flippin' fantastic way to enter a poker tournament
Jeff Gross: A momentary pause in the perpetual motion
From the archive: Stages
Moneymaker surveys the world he created
Negreanu continues preparations for PokerStars Players Championship
Then and Now: Andre Akkari
An exceptional Day 1A
From the archive: Rio here, Rio there
Then and Now: Maria Konnikova
All systems go on 'cattywumpus' World Series
WSOP photos by PokerPhotoArchive.com.
Back to Top