Canada's dirty.brasil has been a consistent presence in PokerStars tournaments for most of the last decade, earning Sunday Warm-Up, SCOOP, and WCOOP victories and more than $3.6 million in cashes. Only one of those cashes came at a Super Tuesday final table but it was a big one – $60,690 for a third-place finish in January 2015.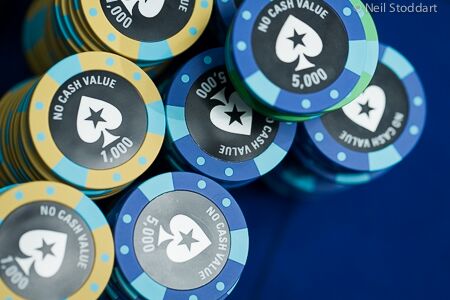 Three years later that performance remains responsible for the second-largest cash of dirty.brasil's time here, but finishing in third place left some unfinished business. The Canadian player's return to the scene tonight began with the second-largest stack at the final table. It ended two and a half hours later with another five-figure score and the satisfaction of improving on a solid performance by winning a major title.
dirty.brasil took over the chip lead with about 60 players left and remained well above average as the field shrank and the payouts began. The Canadian regained the lead briefly on the bubble before former Sunday Storm Special Edition champ Ramiro "ramastar88" Petrone moved all-in on the other table with 3♣ 3♥ and Mateus#9 called with 6♣ 6♠ . No treys on the board meant Mateus#9 earned the pot and slipped ahead of dirty.brasil while ramastar88 departed in tenth place, setting up this final table line-up.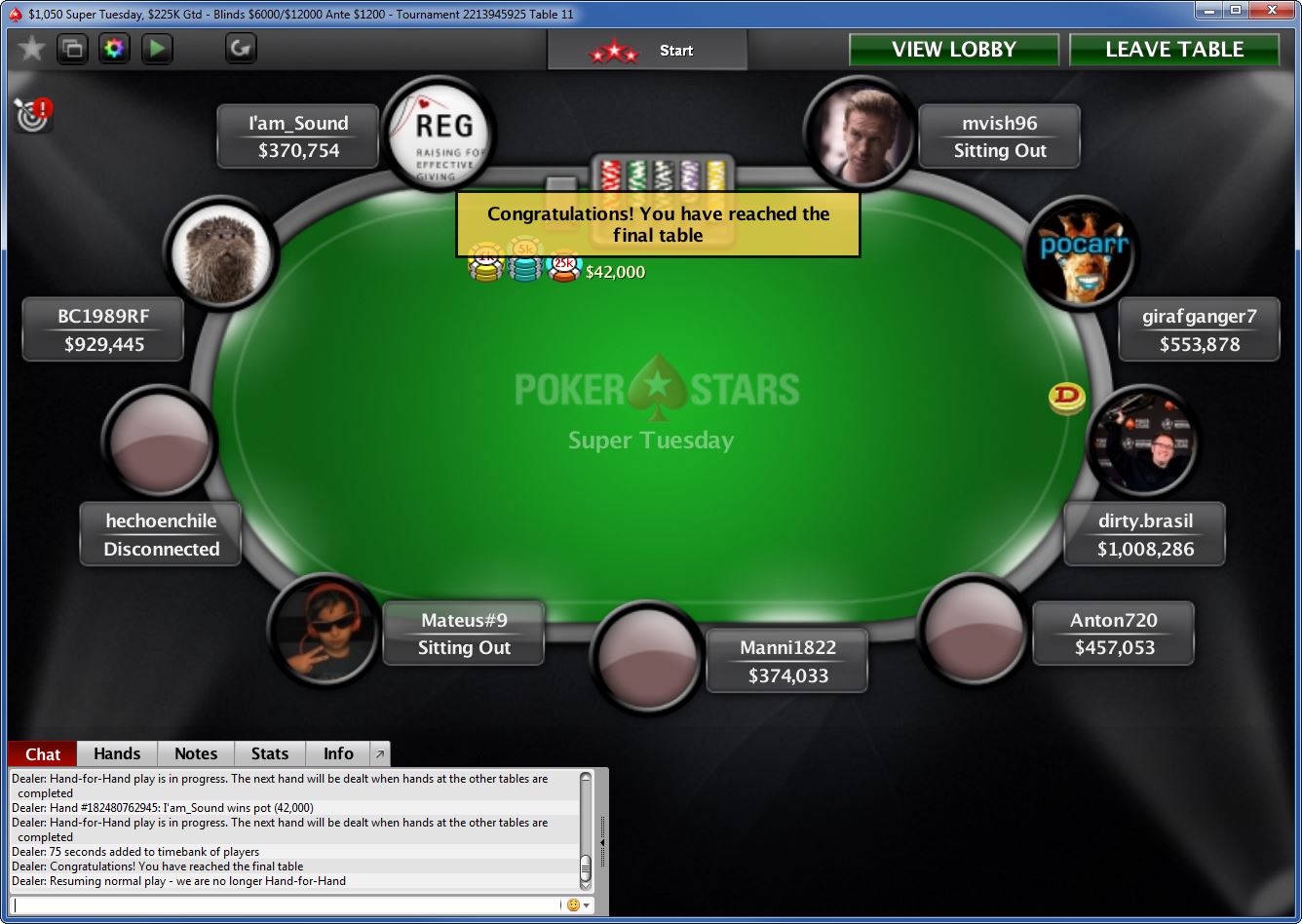 dirty.brasil returns to the Super Tuesday final table
Seat 1: mvish96 (443,310 in chips)
Seat 2: girafganger7 (553,878 in chips) two-time COOP winner
Seat 3: dirty.brasil (1,008,286 in chips) $3.6 million in PokerStars cashes
Seat 4: Anton720 (457,053 in chips) past SCOOP-Medium finalist
Seat 5: Manni1822 (374,033 in chips) past WCOOP Super Tuesday Special Edition finalist
Seat 6: Mateus#9 (1,104,228 in chips) past Sunday Warm-Up runner-up
Seat 7: hechoenchile (734,013 in chips)
Seat 8: BC1989RF (929,445 in chips) 8-28-17 Super Tuesday finalist
Seat 9: I'am_Sound (370,754 in chips) past SCOOP-Medium winner
It took the better part of an hour to break the deadlock thanks to the deep stacks in play and blinds and antes at 6,000/12,000/1,200. mvish96 won only three pots during that time, all of them too small to balance out the later losses. The Russian player eventually open-shoved for 156,701 in early position with A♠ 9♥ . Manni1822 successfully isolated with A♥ Q♥ in the cut-off seat. Manni1822 made a Broadway straight by the river and mvish96 became the final table's first casualty.
Another 25 minutes of small pots came and went before another outmatched ace sent a short stack to the rail. This time it was hechoenchile, who opened the action all-in for 297,828 on the button with A♣ J♥ . I'am_Sound called with A♦ Q♠ in the big blind and took down the pot on kickers when both players ended up with trip treys on the 9♠ 4♠ 8♥ 4♥ 4♦ board, busting hechoenchile in eighth.
Austria's Manni1822 faced elimination five minutes later and doubled to 1.18 million with A♣ Q♣ against dirty.brasil's A♦ 6♠ . Then two consecutive pots reduced the field.
First girafganger7 opened all-in for 242,792 chips with 7♦ 7♣ . Mateus#9 called with 5♦ 5♥ and flopped a set to end the Belgian's tourney in seventh. Manni1822 got heads-up with A♦ A♠ on the button after I'am_Sound open-shoved for 539,582 chips on the next hand with A♣ K♠ . Big Slick got no help and Manni1822 moved into a tie for first as I'am_Sound left in sixth.
Anton720 was the short stack now. The Swedish player was able to avoid elimination once after getting in from the small blind with K♣ Q♣ against BC1989RF's K♦ Q♠ . But opening all-in with Q♠ 10♠ minutes later ended with BC1989RF isolating in the small blind with A♥ A♠ . The 6♠ 5♠ 4♥ kept hope alive for Anton720 with a spade flush draw, but the 2♥ turn and K♦ river gave BC1989RF the pot and busted Anton720 in fifth.
Talk of a deal came up with the table four-handed and everyone holding between 30 and 60 big blinds. But 15 minutes of negotiation went nowhere so the game got back underway. Mateus#9 and dirty.brasil began to pull away from the other two players but BC1989RF found a great opportunity to close the gap after returning from the break.
The Hungarian player limped on the button with 9♦ 9♠ and then called all-in for 24 big blinds total when dirty.brasil jammed in the small blind with 3♣ 3♠ . Then the board fell Q♠ A♥ 3♦ 10♣ 2♦ , giving dirty.brasil the 1.7-million-chip pot and ending BC1989RF's run in fourth.
That left Manni1822 with an uphill battle. The Austrian player was able to double once with K♥ 8♣ against dirty.brasil's J♣ 10♦ and used the proceeds to call all-in for about 19 big blinds with A♦ 4♦ when dirty.brasil open-shoved with A♠ 9♥ . The board missed both players completely, dirty.brasil won the pot, and Manni1822 left in third.
Seven opponents down, one to go
The chips from that pot were enough to give dirty.brasil a 2-to-1 lead over Mateus#9 as heads-up play began. dirty.brasil expanded that advantage early after defending the big blind with A♠ 10♣ and flopping a pair of aces. Mateus#9 pushed back with a few smaller wins but then dirty.brasil got to see a free flop and a free turn as well with 9♣ 5♣ . dirty.brasil got a check-raise in after making a jack-high flush on the turn and then overbet the pot on the river, scooping the 1.8-million-chip pot after Mateus#9 called and mucked.
That win put dirty.brasil ahead by a 4-to-1 spread, more than enough to take control of the match as Mateus#9 became more deliberate. The Brazilian limped in with K♣ 5♥ on the button minutes later, made top pair on the J♠ 9♦ K♦ flop, and committed all-in for about 20 big blinds after dirty.brasil check-raised. Top pair wasn't enough, though – dirty.brasil's Q♦ 10♠ had flopped a king-high straight. That became Broadway after the A♦ turn, and the 10♣ river brought the tournament to its end.
Tonight's victory marks dirty.brasil's second-largest outright win, after a 2017 Sunday Warm-Up victory, and the fifth-largest cash of the Canadian player's PokerStars career. That's quite a feat for someone who has cashed for $3.6 million over the last decade. Congratulations to him on booking another major win!
Super Tuesday ($1,050 NL Hold'em) results
Entrants: 239
Prize pool: $239,000
Places paid: 35
1. dirty.brasil (Canada) $45,970.87
2. Mateus#9 (Brazil) $34,264.73
3. Manni1822 (Austria) $25,539.38
4. BC1989RF (Hungary) $19,036.20
5. Anton720 (Sweden) $14,188.83
6. I'am_Sound (Switzerland) $10,575.79
7. girafganger7 (Belgium) $7,882.79
8. hechoenchile (Chile) $5,875.52
9. mvish96 (Russia) $4,379.38
---
Play deep-stacked tournament poker with the world's best in the Super Tuesday. Click here to open your PokerStars account today.
---
Back to Top